A night at Strandsjön
Click here for Swedish version.
I took these images in July 2007 at Strandsjön in Gautosjö, Lapland when I was fishing. At night, when the cold winds come down from the surrounding mountains, the temperature can reach almost below the freezing point even in July-August and a thick fog rises from the lake and the surrounding marshes. When this fog comes, fishing is usually not very successful but instead, the landscape becomes almost magically beautiful.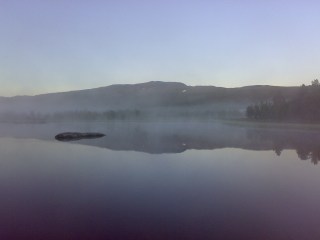 The opening pictures are from Strandsjön, but the latter pictures were taken in the Gauto stream. When the sun rose above the mountains at 4 a.m. the stream was literally flooded with light. All images were taken with my Nokia N73 cell phone.
Click on a thumbnail to the left to see the image in full resolution (2048 x 1536 pixels). If you can't see the menu on the left, you have come to a page that is embedded in frames. Please click here to see the full frameset.
All images are copyrighted by me, Fredrik Bendz, but anyone is free to use them as they see fit for non-commercial purposes as long as they state me as the originator.

[ Back to Fredrik Bendz' personal webpage ]